Welcome to Trade Print Bath
Trade Print Bath specialise in providing printing solutions to a wide range of businesses all over the UK but at TRADE RATES.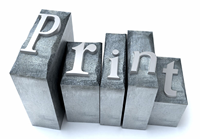 We supply a comprehensive range of printed products, at the very best trade prices backed with the highest levels of customer service.
At Trade Print Bath, no job is considered too big or too small because of our diversification, offering both litho and digital print. We pride ourselves on our ability to go the extra mile for our clients. We have the expertise and capability to handle the short run, fast turnaround digital projects, through to the large run litho print jobs.
It could be a flyer for a start-up business or a brochure for a UK launch. Our team of print professionals appreciate that each job is vitally important and will work with you to achieve the best results.
We are passionate about all things print. We pride ourselves on being professional, honest, reliable and cost effective.
Our philosophy is to provide a 'One Stop' shop to our clients, Trade Print Bath offer the highest level of print services and products. We're all about delivering stress free printing, on time every time.
With 20 years experience as a print supplier you can be assured that your product is in safe hands, but don't just take our word for it, see our testimonial page ... after all it's what you think that really counts.